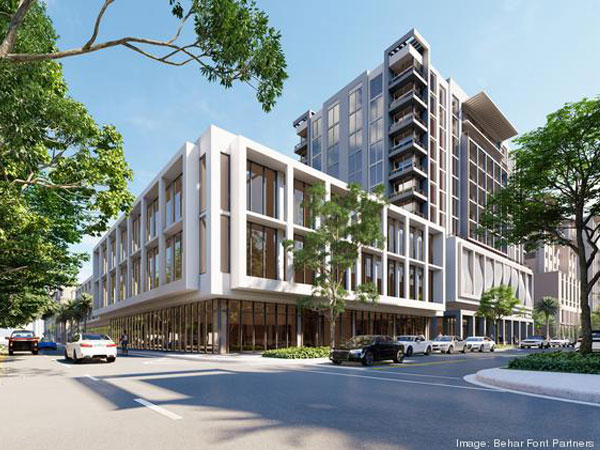 Alta Developers buys Coral Gables development site from Baptist Health for $17M
Alta Developers is a step closer to building a mixed-use project in Coral Gables after acquiring property from Baptist Health South Florida for $17.45 million.
Led by principal and CEO Raimundo Onetto, Alta Developers recently obtained approval from the city to redevelop the 1.41-acre site at 250 Bird Road. It currently has a 28,909-square-foot office building, which was constructed in 1962.
JLL's Manny de Zarraga, Maurice Habif, Simon Banke, and Ted Taylor represented Baptist Health in the sale.
The 11-story 250 Bird project would have 215 apartments, about 10,900 square feet of retail space, and 30,000 square feet of offices. The office space within the existing building would be remodeled.
The apartments would be a mix of studios, one- and two-bedroom units. Coral Gables has some of the highest apartment rents in South Florida.
"We are thrilled to continue to expand our footprint within the South Florida market," Onetto said. "250 Bird will be a one-of-a-kind project perfectly located within one of the country's most desirable locations, Coral Gables, and simply minutes away from downtown Miami and [within] walking distance to a wide variety of shops and restaurants. It will be a place where the community can live, work and play, and we are confident this project will fit right into the neighborhood."
The project was designed by Behar Font & Partners.
Alta Developers aims to break ground on the apartment portion of 250 Bird in the first quarter of 2022 and complete it in 2023. The renovated office spaces should be available in 2022.
The 250 Bird property is part of a 2.8-acre assemblage Baptist Health acquired from developers Ugo Colombo and Masoud Shoajee for $37 million in 2019. On the other half of the property, Baptist Health has partnered with Belmont Village Senior Living to build a senior living project.