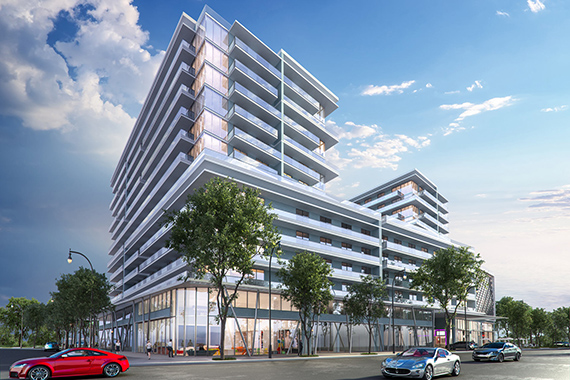 Apartment building and condo tower in Miami win key board approvals
Approved: Quadro, apartment building near Design District.
Miami's Urban Development Review Board gave the green light to a pair of high-rise residential projects in Edgewater and near the Design District on Wednesday.
Quadro, 198-unit mixed-use apartment building at 3900 Biscayne Boulevard, and Ellipsis, a 34-unit condo tower 702 and 708 Northeast 26th Street, can now go forward to the building permit phase.
The board voted 5-0 to approve Alta Developers' Quadro with several conditions, including livening up an interior driveway and preventing its use as a shortcut for vehicular traffic on Biscayne Boulevard. The board also asked Alta to consider adding wider balconies and explore the possibility of underground parking. Board chairman Robert Behar, whose architecture firm is designing Quadro, recused himself from the vote.
Board members praised the apartment tower's design. "I think this project has a lot of fun in it," said Anthony Tzamtzis. "I love the retail spaces with the large sidewalks."
"It's a very interesting, kinetic project," said Dean Lewis. "The articulation is appropriate for this site."
The 1.5-acre site was the previous home for WPLG Channel 10 and housed a charter school. Alta, which bought the property for $18.36 million in 2015, wants to build two 12-story towers with apartments ranging from 768 square feet to 1,278 square feet, and 26,888 square feet of commercial/retail space. The building would also have a 592-square-foot leasing office, 387 parking spaces and a sixth-floor amenity deck with a pool, fountain and fitness center.