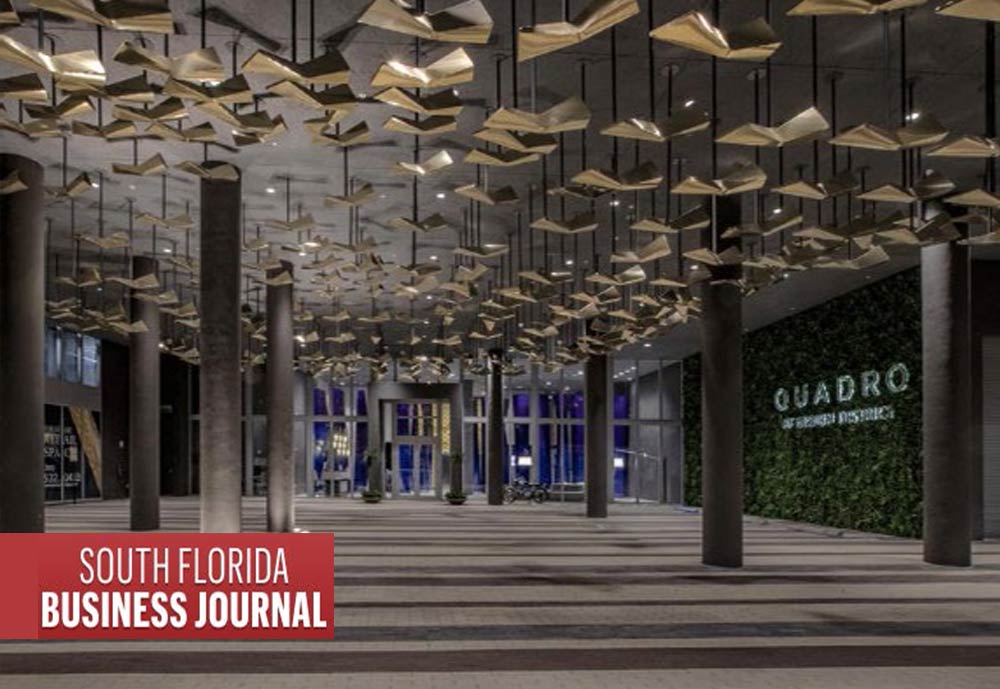 New Miami apartment building converts to condos, launches sales (Photos)

The recently completed Quadro in Miami's Design District will convert from apartment rentals to condo units.
Alta Developers completed the building, at 3900 Biscayne Blvd., in 2019, and it currently has 27 renters. It hired Fortune Development Sales to sell the 198 units as condos. The condo association will permit short-term rentals, which have proven popular with investors looking to generate cash flow from their units.
"As the residential luxury market evolves in South Florida, buyers have created a demand for sensational high-end turn-key residences that provide exhilarating environments and resort-style amenities at compelling pricing points," Alta Developers principal and CEO Raimundo Onetto said. "Quadro gives buyers solid opportunities where they can list their designer residences into a short-term rental program while they are traveling."
Units range from 973 square feet with one bedroom to 1,280 square feet with two bedrooms. Prices start at $399,000.
The 12-story Quadro, designed by Behar Font & Partners, features 542 pieces of art. Amenities include a pool, club room, yoga room and fitness center. Each unit has a Nest smart home thermostat and Bluetooth keyless entry. The building has electric car-charging stations.
Most condo projects are developed based on generating enough presales to fund construction and attract a lender. Quadro was financed and completed as an apartment building based on the strength of Miami's rental market. By converting to condos now, the developer can quickly deliver units to buyers, instead of making them wait for the project to be completed.
According to ISG World's third quarter 2019 report, there were 1,888 new condo units on the market in coastal Miami-Fort Lauderdale. That included 631 completed units, 1,119 under construction, and 138 in the preconstruction stage while taking reservations.
Edgewater has many new condos on the market, plus thousands of recently completed condos that are listed for resale. However, the Miami Design District, which is known for luxury shopping, high-end restaurants and art galleries, has relatively few new condos.
Miami condos geared toward the short-term rental market have tended to sell faster than condos in the $1 million-plus market.